Skip to content
Sending MATIC from Coinspot
In this short guide, we'll show you how to send your newly purchased MATIC from your CoinSpot account and send it to your MetaMask wallet.
Have you added the Polygon Network to MetaMask?
Although it should not matter, we'd suggest you add the Polygon mainnet to your MetaMask first before sending your newly purchased MATIC coins to MetaMask. Don't worry it's easy to do and have a guide to follow below.
Login to CoinSpot
Log into your CoinSpot account and visit your MATIC wallet. Click the send button on the left sidebar menu.
Select the Polygon Network to send via in the first dropdown
Enter the amount of MATIC you want to send
Paste the previously copied new MATIC MetaMask address you just setup in the previous step
Optionally you can save this address for next time
Enter your Two Factor code and click send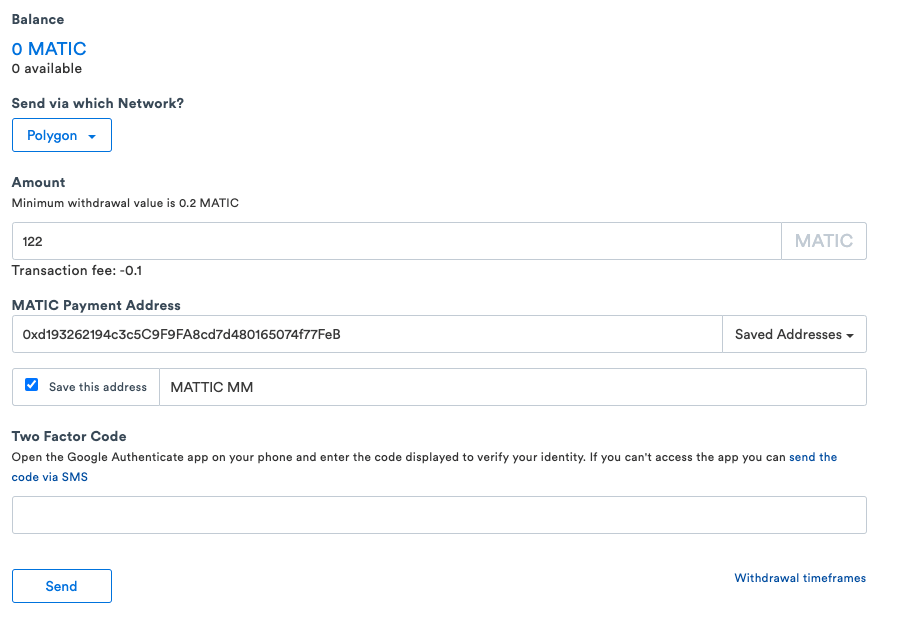 ---
Finishing up
Now you've triggered the send of your MATIC from your CoinSpot account to your MATIC wallet in MetaMask, you'll get an authorisation email from CoinSpot to confirm the transaction. Make sure you confirm it otherwise the transaction will be pending till you do.
So check your emails!
This just helps for security to ensure you don't get any unwanted sending of coins you did not authorise.
You've got MATIC!
After less than a minute you should be able to open your MetaMask extension, open your Polygon Mainnet Network account, and see the newly sent MATIC in your account!
Only thing left to do is mint your first Sloth!